Bounce House Rentals Austin
Are you throwing a kids party this summer? Have you booked your bounce house yet? If you are planning to host any kid-themed event this summer and are considering renting a bounce house, look no further. Welcome to 512Bounce! The number one place for bounce house rentals Austin!
Located in Austin, Texas, we are considered one of the top bounce house rentals in Austin as well as in the surrounding areas. Whether you are planning a garden party for your kids, a church party, a school party or any other event, if require quality and affordable entertainment for kids, we are here for you. We promise that your event will be the party that the kids will be talking about for a long time.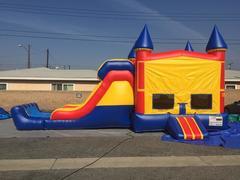 First and foremost, we want to assure you that the safety of our young patrons is our number one priority. We take this very seriously because our business specializes for families. We wish to develop quality relationships with our clients. Our clients should feel confident and come back to us time and again.
This is why we maintain and insure our lead-free heavy-duty commercial inflatables. We also follow strict policies in sanitizing and maintaining our inflatables. You can expect clean units any time you rent from us.
Our Rental Service
While this goes without saying, our rental service has operating licenses and insurance. You can also expect professional services from us. On top of this, we love what we do. That is why we are the best bounce house rental in Austin, Texas. Our employees also have experience dealing with children. They are very friendly and willing to go out of their way to make sure that your kids' party goes without a hitch. Let us know in advance if you need staff to supervise guests or kids, and we can make arrangements.
If you rent a bounce house or any other inflatable from us, we will be responsible for delivering it to your event, staking it up, and pulling it down after the event so your job will be to relax and let your kids have fun. Please give us a call at (512)783-4643 or write us an email at 512bounce@gmail.com and we will be happy to be of service.
512 Bounce; Providing quality and affordable bounce house rentals in Austin, Texas and all the surrounding areas. Check our website if you live in the surrounding towns to confirm we deliver to your town.
Try our bounce houses (known as moonwalks, jumpers, inflatables, bouncy castles, etc). Also try our combo bouncers, such as the 3-in-1, and other fun products today.
Home Bouncers Slides Combos Interactives Games Concessions Contact
© 2017 512 Bounce, LLC. All rights reserved. Austin TX (512) 783-4643